All Popular Learning Videos Step by Step
Questpond's Video series road map for freshers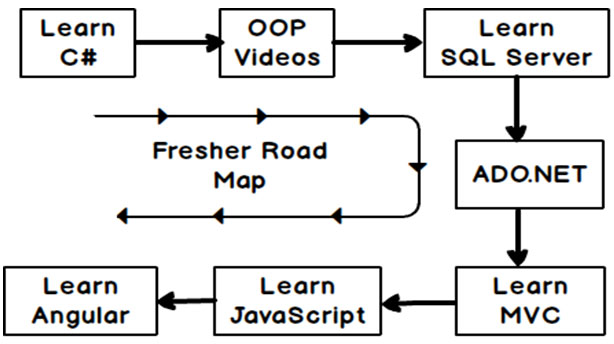 As a fresher when you see 2000 videos spanning across 60 sections you wonder "Where to start from?". So, to know more click here.
Learn step by step with us
Why choose questpond when you have so many choices ?
Our training videos are not just theory based but they are practical , step by step , project based and to the point. You would hardly find any power point presentations in our videos.Watch our sample videos to understand our quality.
We have more than 1000 videos ( Look at our syllabus) and humanly its impossible for any developer to watch all videos. So we have weekly one hour live trainings which ensures that developers gets kick started. These trainings are conducted on saturday during evening times.
We do not just provide videos and leave the developers to struggle. If they have issues we have email support and if needed skype support. Tell us one training site which provide numbers we do because we care for our customers.
At the end of the day why do you trainings ? To get a good job. With this package we also provide mock interviews which gives extra confidence before going to interviews. These interviews give you good insight in which areas you are weak on.
All our trainings have time scoped ,step by step and they target to complete a project. So if you see our training syllabus they are like Learn MVC in 16 hours , Learn Design patterns in 8 hours ,Learn Angular in 8 hours and so on. With this approach you are focussed and in stipualted time you are ready with the new technology.
We also understand that as a developer you would like to revise and see the videos again and again. You would like to view the videos after the subscription expires. So we have provided download facility and also DVD facility which helps you to enjoy our videos even after expiry.
Our Learn MVC 5 Step by Step in 16 hours training is a full step by step video series where we can have taken a customer project , used Angular for UI , WebAPI as back end and EF for data access. In the same series we also have covered the new MVC 1.0 core training.
Angular is a very hot skillset. We have 16 hours of step by step training both for Angular 1.5 and Angular 2.0 training. Again the angular trainings are project based and step by step.
A good developer is not about just coding and coding. He should also know architecture , design patterns , UML and so on. We have a dedicated Learn Design Pattern Step by Step in 8 hours series where we have covered all GOF design patterns, Architecture training and UML concepts.
If you are C# person again you are at the right place.Our Learn C# Step by Step in 100 hours goes step by step with a project and also we have covered .NET fundamentals via 70 rocking Q and A videos.
In today world just C# , MVC and Angular does not work out. To have a extra edge you need server products also to your basket. We have covered 3 server products MSBI , Sharepoint and CRM dynamics. We have Learn MSBI Step by Step in 32 hours , Learn Sharepoint in 8 hours and CRM dynamics training recordings.
If you are looking for SQL server we have Learn SQL Server Step by Step in 16 hours where we have covered basic concepts of SQL Server , Query writing , indexes , stored procedures and so on.
And all these are not different package but is part of one package and has one cost.
We are on Social